At Dentistry in Ajax our dentistry team uses technology that helps them provide our patients with the dental care services they need including digital X-rays, panoramic X-rays, and intraoral scanners.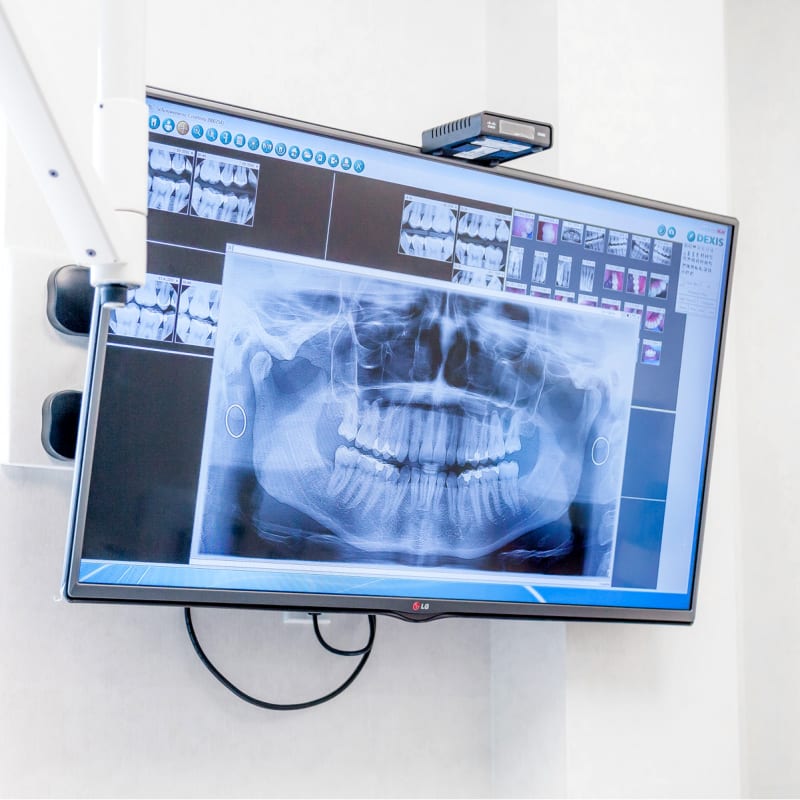 Technologies at Our Dental Clinic
At Dentistry in Ajax, our staff utilizes dental technology that helps them obtain the information they need for treatment planning and to help make your dental appointments more efficient. Because we are able to display the digital X-rays and scans on the monitors in our treatment rooms, we are able to show you any problems you have in your mouth and explain to you your treatment plan. 
Our goal is to provide our patients with the best dental care possible and to make sure they are completely informed about their oral health. The dental technology we have on-site helps us achieve this.
Digital X-Rays
Digital X-rays use digital sensors rather than traditional photographic X-ray film. They capture highly detailed computer images of the teeth and gums, in addition to other oral structures and conditions. This helps your dentist examine parts of the mouth that are invisible to the bare eye.
Panoramic X-Rays
Panoramic X-rays provide your dentist with a single image of your entire mouth. This image is a flat representation of the teeth, upper and lower jaws, temporomandibular joints (TMJ), and sinus and nasal structures. Panoramic X-rays are typically used to help plan treatments for braces, implants, extractions and dentures.
Intraoral Scanners
Intraoral scanners create digital dental impressions, which is a preferable alternative to traditional dental impressions which could be time-consuming and messy. Your dentist operates an optical scanning wand to capture a digital image of your teeth in only minutes. This device allows your dentist to take very accurate data to develop digital replicas of the hard and soft tissues of your mouth.
We are Welcoming New Patients
If you are looking for a dentist in Ajax we will be happy to accept you as a new patient at our dental clinic! Contact us today to schedule your first appointment.
Request Appointment
Location
Dentistry in Ajax
300 Rossland Rd E #100,
Ajax,
ON
L1Z 0M1
CA
Phone
(905) 427-5553
Hours
Monday: 08:30 am - 05:00 pm
Tuesday: 08:30 am - 08:00 pm
Wednesday: 08:30 am - 08:00 pm
Thursday: 08:30 am - 05:00 pm
Friday: 08:00 am - 03:00 pm
Saturday: 09:00 am - 03:00 pm
Sunday: Closed
Quick Links